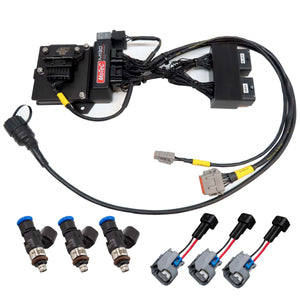 With the stock ECU flashing difficulties; the WSRD Motec Packages make this the last ECU your RR will ever need!
What's Included?
WSRD|JRR M130 Motec ECU
WSRD|JRR Wideband Kit
WSRD Big Injector Calibrations

Includes all available fuel options

WSRD Big Injector Set + PNP Adapters
Power Output:
Stock Tune: 189-191 HP
WSRD Tune | 91 Octane: 208HP | ~233 Crank Horsepower
WSRD Tune | 93 Octane: 213HP | ~239 Crank Horsepower

Boost: 23 PSI
Please Adjust Crack Pressure to 10 PSI

WSRD Tune | 100 Octane: 220HP | ~247 Crank Horsepower

Boost: 24 PSI
Please Adjust Crack Pressure to 12 PSI
WSRD Recommends VP MS100 or MS109
If other fuels are being used, please note during order process

WSRD Tune | E85: 240HP | ~269 Crank Horsepower

Boost: 25-26 PSI
Please Adjust Crack Pressure to 14 PSI
E70 minimum requirement
Additional ECU Options: 
Motec Dash Options
Motec Key Pad Options
WSRD Fuel Pressure Kit
WSRD Oil Pressure Kit
WSRD Flex Fuel Sensor Kit
Please consult with WSRD before purchase if you are looking for any additional custom options. 
Clutching Options:
KWI AO Base Clutch Kit + #4 Helix

KWI|TAPP Primary Clutch 

WSRD Spec STM Rage 4WCP Primary Clutch
Launch Control Options:
KWI Stock Primary Clutch System: 26-2700 RPM 

Requires WSRD Pink Primary Spring

KWI|TAPP or WSRD Spec STM Clutch System: Custom RPM Setting

Consult with KWI or WSRD for additional information and guidance on components requirements for higher engagement launch control configurations
Tune Features:
Speed Limiter Removed
9000 RPM Rev Limit
2-Foot Operation Enabled
Radiator Temp Lowered to 85* C | 185* F
Radiator Fan Disabled at 80* C | 176* F
**Current lead times could be very long due to inventory shortages. Refunds will only be issued less processing fees.