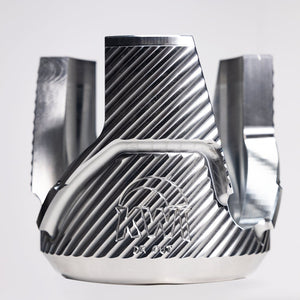 DR3 CUT- THE DR3 HELIX ANGLE WAS DESIGNED FOR UP TO 220 WHEEL HP TO HELP YOUR TURBO SPOOL UP QUICK FOR AGGRESSIVE ACCELERATION AND BACKSHIFTS QUICKLY WHEN YOU SLOW DOWN SO THE POWER WILL BE THERE WAITING WHILE STILL PROVIDING SMOOTH CRUISING. HIGH-SPEED PERFORMANCE AND BELT LIFE ARE UNMATCHED WITH THE DR3 ANGLE USING INCREASED FULL SHIFT BELT SQUEEZE TO STOP BELT SLIP AND IMPROVE PERFORMANCE/BELT RELIABILITY AT HIGH SPEEDS TO KEEP UP WITH TODAYS NEW AND EVER-CHANGING BELT COMPOUNDS.

#4 CUT- THE #4 ANGLE LAYS DOWN THE BIG TURBO POWER LIKE NO OTHER HELIX. THE #4 CUT WILL SHIFT HARD AT LOWER SPEEDS TO HARNESS AFTERMARKET BIG TURBO KITS AGGRESSIVE POWER DELIVERY WHILE KEEPING RPMS IN THE POWER BAND AT HIGHER SPEEDS TO PROVIDE YOU A SMOOTH, FLAT SHIFT CURVE THAT ACCELERATES HARD, GRIPS THE BELT, AND STILL HAS THE ULTRA-QUICK BACKSHIFTING YOU EXPECT.

BT CUT- THIS IS A SPECIALTY BIG TURBO CUT DESIGNED FOR ALL-OUT DRAG CARS WITH EXTREMELY LARGE SINGLE OR COMPOUND TURBO SYSTEMS, NITROUS OXIDE ETC OVER 550 WHEEL HP (60 PSI BOOST PRESSURE) USING 2 STEP LAUNCH CONTROL AT OR ABOVE 15 PSI AND 4000 RPM. THE BT CUT WILL SHIFT EXTREMELY HARD TO GET YOU OUT IN FRONT QUICKLY THEN PROVIDE UNMATCHED BELT GRIP TO STOP BELT SLIP AS YOU LEAVE YOUR COMPETITION AT GAPPLEBEES.