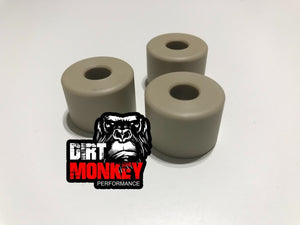 Dirt Monkey Performance Makes only the best. Our rollers are the strongest on the market and have been tested in the harshest of conditions and environments from racing to trail riding, these are proven and backed by our LIFETIME WARRANTY.

Replaces OEM Part#417127016 & #420629211 for X3 & Defenders
     Sold in sets of 2 for Defender Models & 3 for all others. Choose a kit when checking out if you need pins, washers or removal tool

Our rollers fit on the following models and come in sets of 2 or 3 depending on the model.

*2017-2023 Can-Am X3 (set of 3)            *2022-2023 Defender HD9 (set of 3)
*2020-2023 Defender HD10 (set of 3)     *2021 Defender HD8 (set of 3)
*2016-2019 Defender HD10 (set of 2)     *2016-2020 Defender HD8 (set of 2)
KWI Removal Tool Instructional Video Link https://www.google.com/search?client=firefox-b-1-d&q=kwi+hammer+tool+video#fpstate=ive&vld=cid:80ad47b4,vid:X7sIVVwdY4Mhttps://www.google.com/search?client=firefox-b-1-d&q=kwi+hammer+tool+video#fpstate=ive&vld=cid:80ad47b4,vid:X7sIVVwdY4M
Replaces OEM Part#417127016 & #420629211 for X3 & Defenders